About Us
About AMG Cheshire Ltd
Mel Sherwin is retiring as managing director of AMG Cheshire Ltd at the end of March 2019. He would like to thank all AMG Cheshire Ltd customers, old & new, for all their support over the years and wish them every success in their personal and professional lives.
.
Recent gains of fleet service supply agreements & contracts with Arval, Dawsons, Hiregate, 1 Link are some of the benefits that Mel has introduced to support the apprenticeship investments via AMG Cheshire Ltd and the continual support in our local young job seekers and work experience within Tameside.

Alastair Sherwin is the Senior Director and also the Major Shareholder in AMG Cheshire Ltd now his Father has retired. He commenced his automotive career at Ford Priory, followed by his move to Dodmanread of Stockport which then became Mercedes-Benz Stockport. Alastair attained Senior Technician status after attending numerous Mercedes-Benz training courses in addition he is a certified Member of the Motor Industry Management – gained by exam. To enhance Alastair's automotive knowledge Alastair moved to David Holmes the BMW & MINI main dealer based in Stockport were he has attended Dealer Trained factory training courses to further his Technical skills, knowledge and qualifications.
Steve Place is a share holder and our customer service director and has been in the motor industry since 1969, having spent 22 years with Mercedes-Benz at various locations eg. Portmann in Manchester and Mercedes-Benz Stockport.
Since 1977 he has been a member of the Institute of the Motor Industry and holds the Daimler Chrysler Certificate of Excellence, which is a globally recognised service qualification, both gained by exam. Steve has attended numerous training and marketing seminars with Mercedes-Benz and also other car manufacturers.

Dan's background with AMG Cheshire Ltd was that he completed and qualified as a technician in 2011, having attended Tameside College Accredited Apprenticeship Training Programme along with in-house training with AMG Cheshire Ltd. AMG Cheshire Ltd also sent Daniel on a Mercedes-Benz in-house diagnostic course. Dan's skills have through in-house training and courses attended given him the extensive experience across the range of prestige Mercedes and BMW brands serviced and maintained by AMG Cheshire Ltd.
AMG Cheshire Ltd is actively involved with Tameside College in the Accredited Apprenticeship Training Programme in the development of our young technicians. AMG Cheshire Ltd in partnership with Tameside College seek to transform lives of our youth, by offering both first class education and training, in order to improve employability and generate economic prosperity within our local community.
AMG Cheshire Ltd currently employ three apprentices they have trained – two of which are fully qualified.

James Greenough being awarded Tameside College Apprentice Award Mechanical Level 2 Award and Won the Pride of Tameside Award.
AMG Cheshire Ltd are pleased our combined training with the college have contributed towards James' career progressing as a qualified vehicle technician and in turn a position with AMG Cheshire Ltd.
James is specialising & now leads on our light commercial vehicles sector.
AMG Cheshire Apprentice of the Year Mechanical Award 2013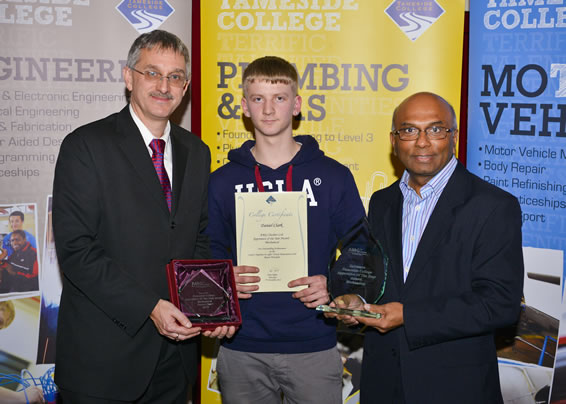 The student who won the award is Daniel Clark, he completed his IMI Diploma Level 3 in Light Vehicle Maintenance and Repair Competence Apprenticeship at college in 2012/2013. He was nominated by his tutor Gordon Day. He was awarded Apprentice of the Year Award- Mechanical which is sponsored by AMG Cheshire.
This award remains onsite ready for the next worthy winner in 2014.
On the photo the award and prize was presented by (to the left of Daniel) John Lyne, Chair of Governors and (the far right) Manilal Mistry , Vice Chair of Governors.
AMG apprentice James Greenough being awarded Tameside College Apprentice Award Mechanical Level 2 Award.