Autowatch 973 GPS/GSM Pager
You are not always near your vehicle to hear your alarm trigger.
You want to know where your asset is at any given time.
You want to know when and where an event happens.
Our technicians have completed the training course and are now approved installers of the Autowatch systems.
Please contact us using our website with your vehicle make / registration for all bookings, enquiries and prices.
The Autowatch 973 GSM and GPS Paging System is an extremely versatile system that has 5 trigger inputs and 3 configurable outputs.
A PAYG or contract SIM card is required and the system can then be used for a myriad of different applications where one needs to be notified by SMS if something happens or if something needs to be controlled remotely by SMS commands.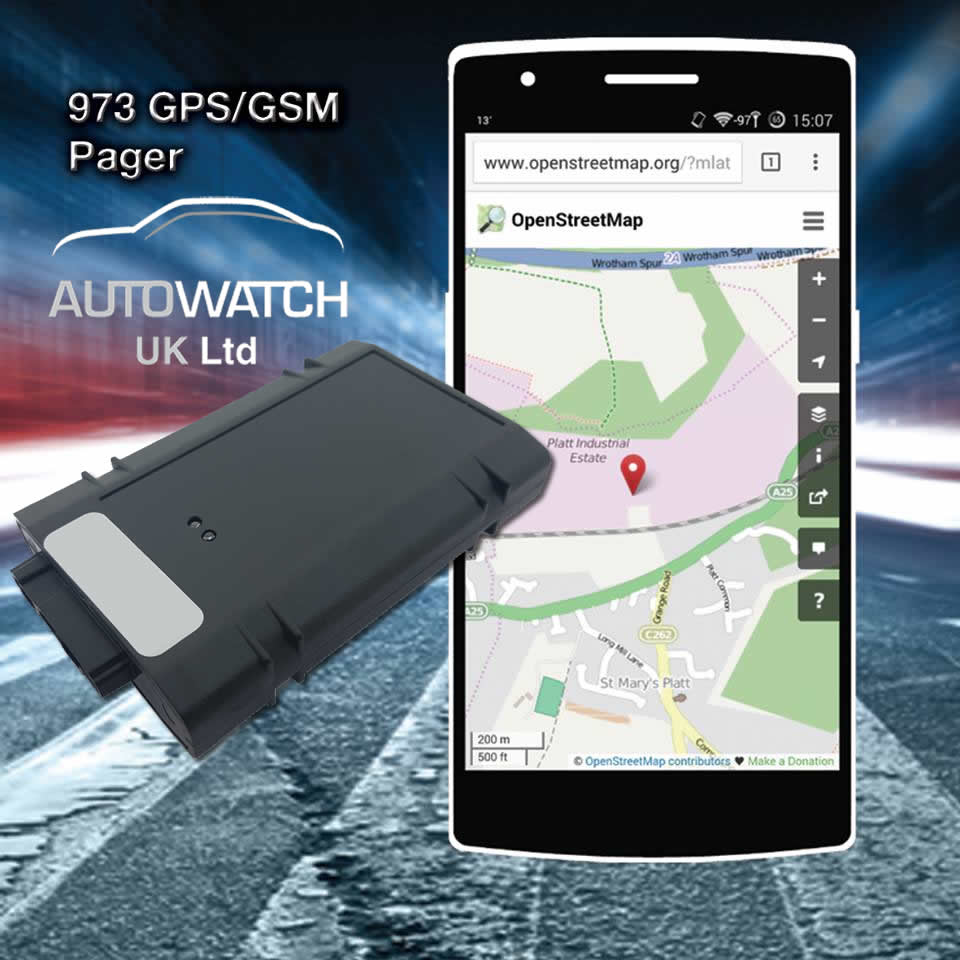 Features:
12/24 V compatible
Outputs can be latching or timed pulsed
GPS map link on every input trigger message
Inputs can be timed to allow you to know how long the input was active
No monthly subscription
Internal battery back
Small package with internal GPS antenna
Suitable for Cars, Vans, Motorhomes, trucks and HGV.
Simple to use and completely secure.
On request a link is sent to your smartphone showing the unit's location on a map. No more inserting GPS coordinates into a mapping provider.
No contract, no hassles, no hidden costs.
Highly configurable to allow you the choice how your messages look and who they go to.
Up to 5 unique numbers can receive event notifications.
5 Inputs that can be connected to the vehicle to trigger events.
3 Outputs that can used to control vehicle functions.
Inputs can be timed to allow for unusual behaviour monitoring. Eg: Monitoring how long doors are opened.
Outputs can be latched or pulsed for a pre-configured time. Eg: Remote lock or unlock of a vehicle.
Alerts for battery disconnect.
Tiny unit with high efficiency internal Quad-Band GSM antenna and internal GPS antenna.
Internal, rechargeable backup battery.
12 V and 24 V vehicle compatible.
2 year warranty.
Some examples of applications where the Autowatch 873 GSM Paging system can be used are:
Linked to any vehicle, boat, caravan, house or building alarm system.
Linked to door or gate that needs to be locked or unlocked from a remote location.
Linked to switch something on or off remotely.
Notify you if something remote is still working.
973 GPS/GSM Pager can be connected to almost any alarm system to provide you with a accurate location showing where the alarm was triggered. Additionally we have included multiple other inputs and outputs that you can control simply from your smartphone. You are in control.
The 973 is not limited to the traditional pager mould. With the highly configurable inputs and outputs and the GPS location system this unit can be used in any number of interesting situations.
Contact us to secure your vehicle or asset!!
Here are a few examples of places you may expect the 973 to be used:
HGV fuel tank monitoring.
Water pump station monitoring.
Vehicle finance agreement asset protection.
Home alarm system monitoring and control.
Marine theft prevention.
Remote gate control.
Just about any application with a permanent power supply where remote monitoring and control is needed for a mobile or stationary asset.