Autowatch Ghost Vehicle Immobiliser
Protect your car from car thieves, including keyless theft, by having an Autowatch Ghost Vehicle Immobiliser fitted by AMG Cheshire.
Our technicians have completed the training course and are now approved installers of the Autowatch systems.
Please contact us using our website with your vehicle make / registration for all bookings, enquiries and prices.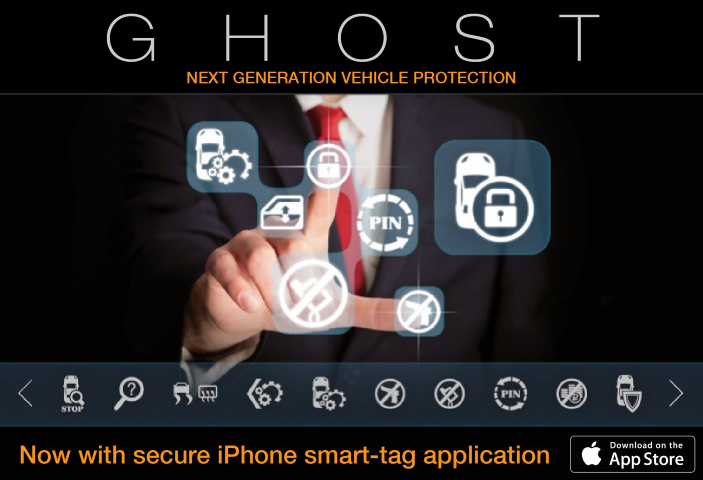 Trusted discreet car immobiliser protection
Make the right choice with the Autowatch Ghost, the worlds first aftermarket CANbus immobiliser.
Worried about the theft of your vehicle? Then protect your car like no other market competing immobiliser.
Autowatch Ghost is a high-tech protection device made to prevent key-cloning, hacking and key theft.
It's so secure in-fact, the only way a thief could take your vehicle with the Ghost immobiliser fitted is to physically tow it away, even then it would be impossible to be ever driven again!
Autowatch Ghost is discreet and has no key-fobs or LED's to expose it's hidden location.
Autowatch Ghost Immobiliser
Contact us to secure your vehicle or asset!!
Advantages & Features:
Prevent Key Cloning & ECU Swapping
Ghost prevents thieves from adding a new key or replacing the ECU to bypass the system to start the vehicle. Only your unique PIN code will start the engine.
Relay Theft Protection
Blocking even new high-tech methods of theft. Ghost stops a 'relay' box transferring a car key's signal from within your house to the vehicle, which would unlock the car. This still prevents the vehicle from starting.
Engine Start Blocking
Prevents the vehicle starting the engine unless your unique PIN code has been entered via the steering wheel/dash first.
Undetectable Via Diagnostics
New high-tech can aid a theft via diagnostics to detect circuit cuts on modern vehicles, the Ghost uses no circuit cuts and is fully undetectable using any of these methods.
No Radio Frequency Signals
The use of RF scanning, code-grabbing technology to detect what security device the vehicle has been fitted with is impossible. The ghost does not transmit any radio frequency signals, unlike other market competitors security devices.
CANbus Advantages
Using CAN data bus has many advantages such as low risk during installation of the system and low chances of detection. This allows the device to be installed almost anywhere in the vehicle.
About Autowatch Ghost
Exciting new Autowatch Ghost updates making your vehicle even securer than ever before.
Using the Ghost is as simple as entering your secure unique PIN via the steering wheel, door panels or centre console which is to your choosing to allow the vehicle to start the engine. But now you can make your car even safer allowing up to 20 digits long for your unique PIN.
Our unique Autowatch Ghost is a non-detectable, unique, next-gen device that allows you to have the utmost security on your vehicle, allowing you to feel safe. Ghost has no need for cutting OEM wires or parts in your vehicle or for adding aftermarket key-fobs. The system is hooked up to your vehicle's CAN data network and configured correctly to personalise each vehicle individually. Your unique secure PIN code is then programmed into the Ghost using buttons installed on your steering wheel/dash.
You Deserve Peace Of Mind
Individually Tested
Due to the Autowatch Ghost being an extremely unique device and the nature of the data bus communication between the vehicle and system we need to test for every vehicle we list as compatible. If your vehicle is listed we can be sure it's fully operationally with Ghost.
Emergency PIN Code
Forgotten your PIN code? Don't panic. There's a secure unique reset code for each device. Regardless of if a button is broke or the vehicle is sold.
Service/Valet Mode
Our unique Service mode allows your vehicle to be temporarily started and driven without the need for the PIN code. Ghost will exit service mode based on the speed of the vehicle and/or time.
Simple PIN Code Change
Is your PIN compromised or struggling to remember it? That's fine, the PIN can be easily and securely changed at any time within the settings.
Weatherproof Tiny Device
It's the UK we prepare for the worst. The small weatherproof device is sealed to prevent water/weather damage and is so smalled it can practically be installed anywhere on the vehicle making it near impossible to find.
Vehicle's OEM buttons to enter the PIN code
Fully discreet, we don't make it clear to the human eye your vehicle is fully secure. Our system uses the buttons from within modern vehicles to send data across the whole vehicle which allows us to detect many different keys being pressed with no need for any wiring.